The U.S. electric grid is using more battery storage than it ever has, finally reaching the point where utility-scale batteries make economic sense to add to the power mix. The technology has been around for decades but just hasn't caught on until now, as energy demands become decarbonized and people move away from coal plants in favor of renewable forms of generation like solar and wind.
The "large-scale battery storage systems" are a new technology that is being used to store energy for the U.S. electric grid. The system allows for easier integration of renewable energy sources and it also helps to reduce power fluctuations on the grid.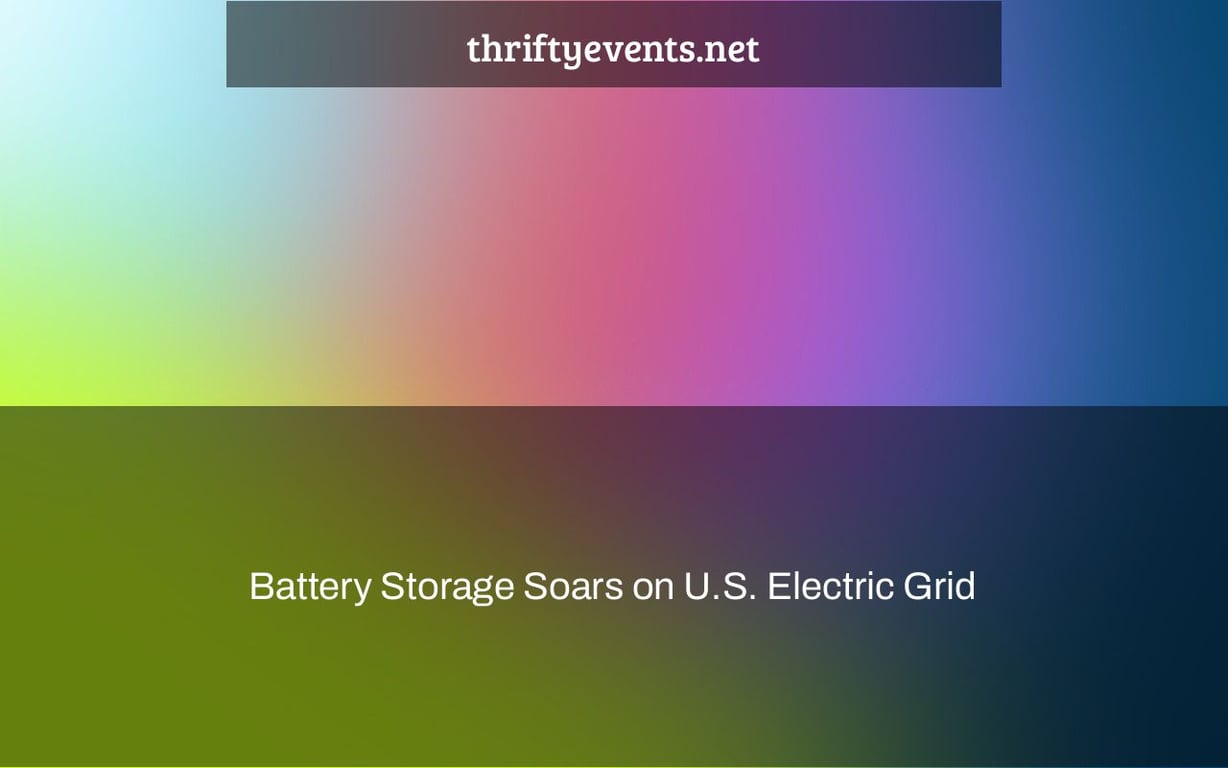 Companies are on track to install a record number of batteries on America's electric grid this year, fueled by government regulations and a significant fall in prices.
According to S&P Global Market Intelligence, the United States, which had less than a gigawatt of big battery installations in 2020—roughly enough to power 350,000 households for a few hours—is on track to add six gigawatts this year and another nine gigawatts in 2022.
For the next few years, demand for utility-scale storage is likely to rise globally, driven by strong development in the United States and China, as new storage technologies and pressure to add renewable energy sources to reduce carbon emissions change the electrical business.
Giant batteries, which are often linked with solar farms, may charge while the sun is shining brightly, then transmit energy to the grid when the sun sets or demand increases, making power more lucrative. The systems, which employ lithium-ion batteries similar to those used in electric cars and laptop computers, resemble rows of boxy shipping containers and often supply up to four hours of backup power.
The rapid advancement of battery technology has the potential to drastically alter the power production industry. In certain regions of the nation, battery-discharged energy is gradually replacing electricity supplied by gas-fired power plants, particularly those that only operate during peak demand hours. As batteries grow cheaper and more practical, utilities, power providers, and investors are questioning the necessity for traditional power plants.
The cost of lithium-ion batteries has dropped dramatically, making utility-sized battery projects more affordable. Lithium-ion batteries have become widespread in smartphones and laptops, and are increasingly in high demand for electric cars. According to BloombergNEF statistics, lithium-ion battery packs, which cost more than $1,200 per kilowatt-hour in 2010, have dropped to roughly $132 this year.
The state of California is driving most of the growth in the U.S. battery business. It is scrambling to acquire power to compensate for the probable shutdown of multiple gas-fired power facilities as well as a nuclear reactor that generates roughly 10% of the state's energy. California's electrical infrastructure must be decarbonized by 2045, according to a legislation approved in 2018.
According to the US Energy Storage Association, at least eight additional states have storage requirements or objectives, including New York, Virginia, and Nevada. According to Goldman Sachs, the market for stationary batteries in the United States will expand from about $1 billion in 2020 to $13 billion to $14 billion by 2030.
Key Capture Energy, a storage company, currently has 370 megawatts of battery projects operational or in the works, up from 54 megawatts at this time last year. The business is working on projects in New York, New England, Texas, and other locations, including a 20-megawatt installation on the site of a Maryland coal plant that will close in the near future.
The panels at the Lily solar project include technology that enable them to change their angle during the day to receive the optimum amount of sunlight.
The Wall Street Journal's Jake Dockins took this photo.
According to Jeff Bishop, co-founder and CEO of Key Capture, lowering prices have allowed the firm to grow into Oklahoma, Michigan, and other places where battery manufacturing has traditionally been difficult.
Mr. Bishop said, "Five years ago, most energy storage firms were little businesses like us, with a few of employees with PowerPoints and ideas." "Now, it's businesses with real money and billions of dollars to invest in growth."
Even in places without storage laws, such as Arizona and Texas, where batteries are being installed alongside huge renewable energy projects as well as as stand-alone projects to take advantage of power price swings, there has been a surge in battery installations.
By the end of 2020, the main Texas grid operator has 225 megawatts of utility-scale battery storage operational. In Texas, one business, a subsidiary of Italy's Enel ENEL 1.56 percent SpA, is building 551 megawatts. It linked a 55 megawatt plant southeast of Dallas to the grid this month.
Money is a stumbling block in global climate change discussions. As experts warn that reducing global warming to 1.5 degrees Celsius would cost much more than previously estimated, the Wall Street Journal examines how the money may be spent and who would pay. Preston Jessee/Wall Street Journal
Between 2022 and 2024, Enel aims to add 1.4 gigawatts of storage to the American grid, accounting for more than half of its worldwide ambitions. Much of it is in Texas or the PJM Interconnection, a 13-state electrical market from Virginia to Illinois.
Alberto De Paoli, Enel's chief financial officer, said, "The United States is crucial in our growth plan." "We're practically increasing our investment in the United States compared to what we had planned earlier."
Mr. De Paoli believes that the Biden administration's support for renewables, as well as the predicted extension of current renewables tax incentives, influenced his choice.
Higher raw material prices are projected to halt further battery cost reductions in the near future. But, according to Steve Piper, head of energy research at S&P Global Market Intelligence, this is unlikely to be a drag on battery demand, and cost inflation might be more than compensated by possible new tax incentives.
As part of the Biden administration's planned Build Back Better spending package, legislators are exploring the first investment tax credit for stand-alone storage facilities. Congress has postponed that discussion until next year, putting the measure's present form in jeopardy, even though energy tax credits haven't been the most contentious aspect of the plan. Many battery projects are now being combined with solar farms in order to qualify for the current solar credit of 26%. For the credit, developers may include battery charges in their project costs.
A stand-alone credit, according to John Carrington, CEO of energy-storage provider Stem Inc., might drive projects in additional states and prompt some renewables owners to explore adding batteries to existing projects.
"There's a refit aspect that is fantastic," Mr. Carrington said, "because now you can go build storage in any site where they have solar."
---
Subscribe to our newsletter
Today's Newspaper
Every article from the day's Journal is included here, along with links to each one.
---
By releasing power when it is most required, batteries may interact with the system in a more dynamic manner than wind or solar can.
"Developers and asset owners are learning how to deploy their batteries into the market and generate money," Vanessa Witte, senior energy storage analyst at Wood Mackenzie, said. "Batteries offer a variety of varied income prospects, while solar and wind have more defined revenue potential."
Utility-scale lithium-ion battery installations, like conventional lithium-ion batteries, may be dangerous. Several have caught fire, including one in Australia in July that used Tesla Inc. battery packs.
According to the latest industry study from Wood Mackenzie and the US Energy Storage Association, large projects by utilities and developers dominate the storage market, accounting for nearly 89 percent of installations this year. However, the domestic market for battery storage in the United States is on the rise, with sales expected to top $1 billion next year as more homes combine storage with solar panels.
"I think there's also increasingly significant attention now for residential customers on the question of reliability and resilience, particularly in places where things like public-safety power shut-offs or wildfires, hurricanes, or other disruptions are happening," said Jason Burwen, interim CEO of the US Energy Storage Association.
Many clients in California and Hawaii, which are the top states for domestic storage, may earn incentives to add batteries to their houses. However, storm-prone Florida ranks third in terms of installation. Mr. Burwen said, "That's not a fluke."
Jennifer Hiller and Katherine Blunt can be reached at [email protected] and [email protected], respectively.
Dow Jones & Company, Inc. All Rights Reserved. Copyright 2021 Dow Jones & Company, Inc. 87990cbe856818d5eddac44c7b1cdeb8
Watch This Video-
The "battery storage capacity" is a rapid increase in the battery storage capacity of electric grids. The U.S. has seen a significant increase in the amount of energy stored by batteries, which will allow them to use renewable sources and reduce reliance on fossil fuels.
Related Tags
grid-scale battery storage
grid-scale battery storage costs
grid-scale battery storage uk
largest utility-scale battery storage
grid-scale battery storage companies